What does Modivitasan contain?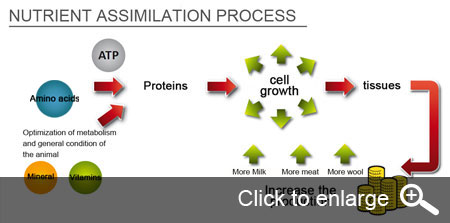 Modivitasan
, is a globally unique formula, developed according to the current breeders needs looking for an increase in livestock production. The use of Modivitasan has many advantages over other traditional supplementation methods, such as Vitamin AD3E, B Vitamins and others separately administered. Modivitasan formula contains:
Amino acids
Valine, Leucine, Arginine, Histidine, Monosodium Glutamate Glutamid Acid precursor):
These amino acids synthetize the proteins that improve the structute and functionality of all organs and also stimulate muscle mass formation.
Lysine, Methionine, Threonine, and Tryptophan:
Amino acids that are poorly synthesized by the animal organism therefore these should be supplemented. They reinforce the action of the promotional amino acids as protein formers.
All Organic Minerals
Iron, Sodium, Phosphorus, Calcium, Cobalt, Magnesium, Manganese, Selenium and Potassium:
Minerals are the third group of restricted nutrients in animal production. Their importance lies on the fact that they are necessary to transform food into body components or into products such as milk, meat, litters, skin or wool among others. An imbalance of these nutrients can cause serious reproductive issues to grazing animals and a series of metabolic diseases due to energy or minerals disproportion. (Garmendia, 2006).
Vitamins
Vitamins A, B12 (Cyanocobalamin), D and E:
These vitamins are involved in different metabolic functions, including fat and carbohydrates metabolism and protein synthesis, blood generation, corporal growth, tissues regeneration, formation and maintenance, and also into the reproductive system. Vitamin D3 is essential for calcium and phosphorus metabolism and normal homeostasis. Vitamin B12 (Cyanocobalamin) is essential in blood formation, corporal growth and tissue regeneration.
Energy Source
Adenosine triphosphate (ATP):
Energy is the first restricted nutrient in tropical cattle nutrition (NRC, 2001). The lack of energy is the most common consequence of nutritional deficiency which limits animal performance. This is developed because of poor food availability and poor quality of the food intake. An inadequate supply of energy in young animals cause a delay in growth and puberty advent (Chicc et al., 1977).
Formula
DL-Methionine
L-Arginine
L-Histidine
L-Leucine
L-Lysine
L-Threonine
L-Tryptophan
L-Valine
Sodium Glutamate
Adenosine Triphosphate Disodium
Vitamin A Palmitate
Cyanocobalamin (B12 Vitamin)
Cholecalciferol (D3 Vitamin)
Alpha - Tocopherol Acetate (Vitamina E)
Ammonium Iron citrate
Sodium chloride
Sodium glycerophosphate
Calcium gluconate
Cobalt Gluconate
Magnesium Gluconate
Manganese Gluconate
Zinc Gluconate
Sodium selenite
Potassium iodide
Excipients q.s.a.d.

210.00 mg
200.00 mg
210.00 mg
210.00 mg
1000.00 mg
100.00 mg
50.00 mg
200.00 mg
420.00 mg
300.00 mg
3000000 IU
5.00 mg
1000000 IU
1000.00 mg
400.00 mg
42.00 mg
1000.00 mg
3.80 mg
20.10 mg
410.00 mg
318.70 mg
167.20 mg
50.00 mg
200.00 mg
100 mL